Coil tilter/updender/turner
https://www.fhopepack.com/Coil_upender.html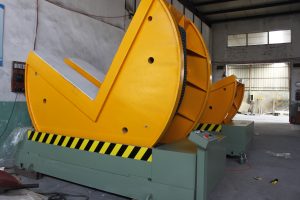 Coil upender also called coil tilter, it's a mechanical device used to turn large heavy copper or steel coils 90°and change the direction. Below is the example of one of our inquiries.
FHOPE PACKAGING MACHINERY CO.,LTD
Dears,
Do you make a coil upender/coil tilter with a motorized V-saddle to snug the coil against the pallet before tipping. The coils that costumer use have Max Diameter 1200mm and Max Weight 6Ton. Inner diameter is not important for this machine/device I guess.
Looking foward to receiving your proposal.
Best regards
Re:
Dear Sir:
Im Tao Zheng, work for Shanghai Fhope Machinery Co..,Ltd.
Thanks for your inquiry.
I need to know what's the Width or height of the coils?
Please reply me when you see this e-mail.
Best regards
Tao
Dear Tao,
Thank you for reply me.
The coils have Max Diameter 1200mm, width 1200-1500mm, weight max 6 t.
The coil upender is hidraulic driven or by chain whith electric motor ?
Is it possible to have the V-table motorized?
Dear Sir:
The coil upender is driven by chain with electric motor.
What do you mean V-table motorized? like the video below:
https://www.fhopepack.com/videos/multipurpose-automatic-coil-tilter-with-slide-table/
Best regards
Tao