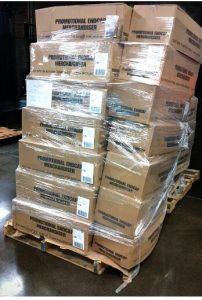 Second, defective unit load. If there is no effective stretching package, we can see that the load will be displaced. They can't stretch vertically and that's the end result. We can see that the non-vertical load, or more than 2 inches of vertical alignment, will be damaged. During transportation, we can see that they have increased the risk of multiple processing. It's very dangerous.
Through experience, we have also concluded that if your customers receive almost no damage or tear, they are not happy. And generally, the sale of these goods must be sold at a lower price, so the profits are greatly reduced. Therefore, it is impossible to take a lower price to sell products, because in this way, your interests will be greatly damaged.
If this happens, there will be a lot of side effects. As you can imagine, brand loyalty can be compromised. There are dents, crushed or faded products that people don't want to buy. And next to your damaged product, do you know what it is? It's a competitive brand. The customer tries another merchant, which you can't accept.
This can seriously endanger business relationships. We all know that if product damage, it puts pressure on business relationships. Every time we open the door of a wharf, a truck damaged products will appear problem, so, there is no doubt that the customer time and money for you, would make a big problem.
You know what it is? We can see a lot of global shipping losses, more than $60 billion a year. Do you know what caused these losses? Generally speaking, ineffective stretch packaging is the main cause of product damage. However, you can reduce a lot of damage by improving your stretch wrap, which is also good news.
Well, why don't you do it? Whether it's your clients, your environment, or your bottom line, they'll be grateful.